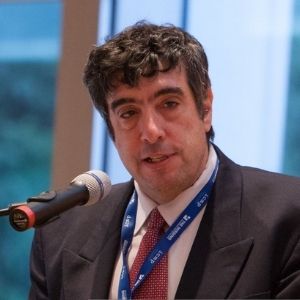 Nota Biográfica | Experiência Pedagógica | Publicações
O Professor Jeremy Sarkin licenciou-se e pós-graduou-se na África do Sul, tem um Mestrado pela Harvard Law School e um Doutoramento em Direito em Direito Internacional e Comparado.
É advogado na África do Sul e nos EUA, tendo exercido na Ordem dos Advogados de Nova Iorque, entre 1988 e 1989.
Trabalhou na Comissão Internacional de Juristas em Genebra, Suíça. É Professor de Direito na Universidade da África do Sul e  Investigador Principal Convidado da Faculdade de Direito da UNL.
Foi membro e Presidente-Relator (2009-2012) do Grupo de Trabalho das Nações Unidas em Desaparecimentos Forçados ou Involuntários.
Foi juiz, entre 2002 e 2003, na África do Sul. Foi Presidente do Comité dos Direitos Humanos da África do Sul entre 1994-1998.
Trabalhou em temas de justiça de transição em vários países, incluindo Iraque, Síria, Argentina, Uganda, Zimbabué, Maldivas, Nepal, Burundi, Marrocos, Bósnia-Herzegovina, Timor-Leste, na República Democrática do Congo, Líbia, Tunísia, Indonésia, Filipinas, Bangladesh, Bahrein e Líbano.
É coeditor da Series on Transitional Justice, da Editora Intersentia. É membro de vários conselhos editoriais de revistas científicas, incluindo Human Rights Quaterly, Human Rights and International Legal Discourse e International Review od Criminal Law. O Professor integra também várias Direções de ONG, incluindo o Institute for Justice and Reconciliation (IJR).
Publicou 15 livros e mais de 250 artigos. Alguns dos seus livros e monografias mais recentes são os seguintes: "Conflicted Democracies and Gendered Violence: The Right to Heal" (coautor), University of Chicago Press (2016); Bosnia and Herzegovina: Accounting for Missing Persons from the Conflict: A Stocktaking, International Commission on Missing Persons (ICMP) (2014, coautor); "Germany's Genocide of the Herero" (2011); Reparations for Colonial Genocides" (2009); "Human Rights in African Prisons" (2008, editor); "Reconciliation in Divided Societies: Finding Common Ground" (2007, coautor); "Carrots and Sticks: The TRC and the South African Amnesty Process" (2004); "The Administration of Justice: Comparative Perspectives" (2004); "Social, Economic, and Cultural Rights – An Appraisal of Current International and European Developments" (2002, coeditor); "Resolving the Tensions Between Crime and Human Rights: European and South African Perspectives" (2002, coeditor); "The Principle of Equality" (2001, coeditor).
Licenciatura (1º Ciclo):
International Criminal Law
International Humanitarian Law
International Human Rights Law
Mestrado (2.º Ciclo):
State Rebuilding and the Rule of Law in Post Conflict Societies
Transitional Justice
Doutoramento (3º Ciclo):
Methodology of Legal Research
Livros
"Signposts to Peace (An investigation into the Natal Conflict)", por Sarkin, Ahlund e Macdonald, 1990, International Commission of Jurists, Geneva
"A Charter for Social Justice: A Contribution to the South African Bill of Rights Debate", por Sarkin, Corder, Murray, Steytler, O'Reagan, Kahanowitz, Murphy e Smith, 1992, University of Cape Town
"From Human Rights to Human Wrongs", editado por Malila, Sarkin, Viljoen, 1994, University of Pretoria
"Human Rights, the Citizen and the State" (eds Sarkin e Binchy) Round Hall Sweet e Maxwell Publishers, 2001
"The Principle of Equality" (eds. Sarkin, Vander Lanotte e Haeck) Maklu Publishers, Antuérpia, 2001
"Resolving the Tensions Between Crime and Human Rights: European and South African Perspectives" (editores Sarkin, Van de Lanotte e Haeck) Maklu Publishers, Antuérpia, 2001
"Social, Economic, and Cultural Rights – An Appraisal of Current International and European Developments" (eds. De Pelsmaeker, Vanderauweraert, Sarkin e Van de Lanotte) Maklu Publishers, Bélgica, 2002

 

"The Administration of Justice: Comparative Perspectives" (editores: Sarkin e Binchy), Four Courts Press, Irlanda, 2004
"Carrots and Sticks: The TRC and the South African Amnesty process", Intersentia Press, Bélgica, 2004
"Reconciliation in Transitional Societies: Finding Common Ground" (em co-autoria com Erin Daly), University of Pennsylvania Press, 2007. 352 páginas; edição de bolso, 2010;  e-version, 2012
"Human Rights in African Prisons" (editor) publicado conjuntamente pela Ohio University Press (EUA) e pelo Human Sciences Research Council Press (África do Sul), 2008 
"Colonial Genocide and Reparations Claims in the 21st Century: The Socio-Legal Context of Claims under International Law by the Herero against Germany for Genocide in Namibia, 1904-1908", Praeger Security International, 2009

 

"Germany's Genocide of the Herero: Kaiser Wilhelm 11, his General, his Settlers, his Soldiers".

Publicado conjuntamente pela University of Cape Town Press, África do Sul e James Currey, Reino Unido 2011 (há muito listado em 2012 para o Sunday Times Alan Paton Award for non-fiction)

"Transitional Justice: A Handbook for Journalists, Citizens and Activists", IWPR, 2013
"Bosnia and Herzegovina: Accounting for Missing Persons from the Conflict: A Stocktaking", International Commission on Missing Persons (ICMP) 2014
"Conflicted Democracies and Gendered Violence: The Right to Heal", University of Chicago Press (2016)
"The Global Impact and Legacy of Truth Commissions", Intersentia Publishers, 2019

   

"Africa's Role In, and Contribution To, International Criminal Justice" (editores Jeremy Sarkin e Ellah Siangandu), Intersentia 2020
Autor:  "The Conflict in Syria and the Failure of International Law to Protect People Globally: Mass Atrocities, Enforced Disappearances and Arbitrary Detentions", 300p. (Routledge 2021)
Artigos de revistas científicas, Capítulos de Livros e Outras Publicações
(2022) "Introduction: Understanding How the Historical, Democratic and Human Rights Contexts of Armenia, Azerbaijan and Georgia Affect Issues Concerning Conflict-Related Missing Persons and Enforced Disappearance in the South Caucasus", Caucasus Survey 10(2) 155-177, julho 2022.
(2022) "Reforming the Law and State Practice in Armenia to Better Deal with Conflict-Related Missing Persons and Enforced Disappearances". Caucasus Survey 10(2) 178-200, julho 2022
(2022) "Reforming the Law and State Practice in Azerbaijan to Better Deal with Conflict-Related Missing Persons and Enforced Disappearances", Caucasus Survey 10(2) 201-222, julho 2022
(2022) "Reforming the Law and State Practice in Georgia to Better Deal with Conflict-Related Missing Persons and Enforced Disappearances" Caucasus Survey 10(2) 223 – 243, julho 2022
(2022 com Ross Capazorio) "The Syrian Conflict as a Test Case for the Limits of the International Community and International Law: Global Politics and State Sovereignty versus Human Rights Protection.", Human Rights Quarterly 44(3) (agosto 2022) 476–513
(2022 com Eryn Sarkin) "Reforming the International Court of Justice to Deal with State Responsibility for Conflict and Human Rights Violations", International Human Rights Law Review 11(1) (2022) 1-35.
(2022 com Tatiana Morais) "The Importance of Adopting an Intersectionality Approach to Refugee Status Determination Procedures: Lessons from Greece, Israel, and Uganda", International Journal of Migration, Health and Social Care
(2022 Elisenda Calvet Martinez) "Why the Systematic State Practice of Enforced Disappearance of Children Are Often Instances of Genocide and Crimes Against Humanity: Strategies for Preventing Future Occurrences And Solving Past Cases" Catholic University Law Review 71(1) 33-103, Washington DC, Estados Unidos da América
(2022) "Amnesty and Truth Commissions" in Oxford Handbook on Atrocity Crimes, Editado por Barbora Hola, Hollie Nyseth Brehm e Maartje Weerdesteijn Oxford University Press (675-702)
(2021) "The Need for a New Paradigm in International Law to Provide International Protection: Learning the Lessons from Past Processes and Designing a Mechanism to Assist Victims of Arbitrary Detentions and Enforced Disappearances in Syria", International Human Rights Law Review 10(2) 1-44.
(2021) "Towards A Greater Understanding of Guarantees of Non-Repetition (GNR) or Non-Recurrence of Human Rights Violations: How GNR Intersects Transitional Justice with Processes of Democratic Governance, State Rebuilding, Reconciliation, Nation Building, and Peace Building", Stanford Journal of International Law 57(2) (Fall 2021) 191-229
(2021) "South Africa: Civil Society Has a Vital Role to Play in Building a National Preventive Mechanism to Help Combat Torture", Daily Maverick, 18 de novembro 2021.
(2021) "Memorandum on the Architecture of the National Preventive Mechanism (NPM) and its Role in Combating Torture and Other Forms of Cruel, Inhuman and Degrading Treatment and Punishment", South African Coalition on Transitional Justice, novembro 2021.
(2021) "Why the Theory and Practice of Transitional Justice Needs to be Better Integrated in All Places Around the World" in Journal AlMuntaqa setembro/outubro 2021, Vol. 4, No. 1 (setembro/outubro 2021), 39-55
(2021) "Reforming the International Criminal Court (ICC): Progress, Perils and Pitfalls Post the ICC Review", International and Comparative Law Review, 2021, 21(1): 7-42
(2021) "The Tensions that Exist in the Creation of National Mechanisms for (Implementation) Reporting and Follow-Up (NMRF/ NMIRF)" in 29 Tulane Journal of International and Comparative Law (2020-21) 285-312
(2021) "Humans Not Numbers: The Case for an International Mechanism to Address the Detainees and Disappeared Crisis in Syria", Impunity Watch, 2021. 1-40.
(2021) "Promoting the Rights of Victims in Under-Resourced Places by Using Science and Technology, That Can Be Used by Ordinary People, To Deal with Human Rights Violations: Bolstering the Right to the Truth", Liverpool Law Review (Refereed) 42(3): 339-360
(2021) "Why Transitional Justice Needs to be Conceptualised in Arab States Theoretically As Well As Empirically" in Journal Siyasat Arabiya (Arab Policies) (2021) volume 47: 7-21 (Refereed)
(2021) "The 2020 UN Human Rights Treaty Body Review Process: Prioritising Improving Domestic State Reporting Processes Over Rationalising and Streamlining the Treaty Body System", International Journal of Human Rights 25(8): 1301-1327.
(2020) "Understanding South Africa's Changing Positions on International Criminal Justice: Why the Country Wanted to Withdraw From the ICC and Why It May Remain in the ICC For the Time Being", Cadernos de Estudos Africanos 85-108
(2020) "Reforming the Governance System on the United Kingdom's Overseas Territory – St Helena", Relatório publicado pelo Departamento para o Desenvolvimento Internacional do Governo do Reino Unido (DFID. 1 – 15)
(2020) "Dealing With Missing Persons and Persons Who Have Suffered Crimes of Enforced Disappearance in Georgia", Foundation for European Future. 1-15. 155-177
(2020) "Introduction" in Africa's Role and Contribution To International Criminal Justice" (editores Jeremy Sarkin, Ellah Siangandu), 2020, 1-24
"Is the African Court on Human and Peoples' Rights with Criminal Jurisdiction an African Solution to an African Problem?" in Africa's Role and Contribution To International Criminal Justice (editores Jeremy Sarkin e Ella Siangandu), 220-258
Serviço de Assistência a Aluno/as:
2.ª Feira das 12h às 13h (inscrições por e-mail)