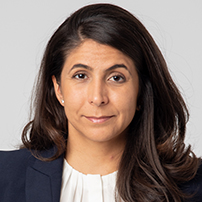 Abreu Chair in ESG Impact
Nota Biográfica
|
Experiência Pedagógica
|
Publicações
|
Áreas de Investigação
Lucila de Almeida é a Abreu Chair in ESG Impact e Coordenadora do NOVA Green Lab na NOVA School of Law. É também Professora Auxiliar a tempo parcial no European University Institute e na Wageningen University & Research, co-Diretora do Projeto Regulatory Delivery e membro da Comissão de Coordenação da Florence School of Regulation, Robert Schuman Center for Advanced Studies. Os seus campos de investigação são em direito da energia, do ambiente e do clima. Possui um Doutoramento em Direito Europeu pelo European University Institute, LL.M em Direito Comparado, Europeu e Internacional pelo mesmo instituto, Mestrado em Direito e Desenvolvimento pela FGV São Paulo e um Bacharelato em Direito pela Universidade Federal do Rio Grande do Norte.
Antes de entrar para o corpo docente da NOVA, Lucila foi Edmond J. Safra Research Fellow no Centro de Ética da Universidade de Tel Aviv (2019-2020), Postdoctoral researcher na Faculdade de Direito da Universidade de Helsínquia (2017-2019), Research Associate no Departamento de Direito do Instituto Universitário Europeu (2013-2016) e uma académica visitante no Dipartimento di scienze politiche, giuridiche e studi internazionali, Università Degli Studi di Padova (2019) e Louvain Global College Law, UCLouvain (2018).
Lucila trabalhou em vários projetos como investigadora e consultora financiada por prestigiadas organizações, entre elas a Agência Internacional de Energia (2019-2023), Berlin Economics (2020), a Academy of Finland (2017-2018), o Conselho Europeu de Investigação (2013-2016) e o Banco Interamericano de Desenvolvimento (2011). O seu trabalho, até à data, tem resultado em numerosas publicações em revistas e livros revistos por pares listados entre as publicações. Para além das publicações, foi managing editor do European Journal of Legal Studies (EJLS) e editora assistente do European Journal of International Law (EJLS).
NOVA School of Law, Portugal (2022-presente)
Environmental Law (Mestrado)
Energy, Climate and the Just Transition (Mestrado)
Instituto Universitário Europeu, Itália (2018-presente)
Regulatory Delivery (Formação executiva)
Clean Molecules for the Energy Transition (Formação Executiva)
Green Deal (Formação Executiva)
Wageningen University and Research, Países Baixos (2020-2022)
Advanced Course on Economic Regulation (Doutoramento)
Agri-Environmental Law (Mestrado)
Introduction to Law for Life Sciences (Mestrado)
Environmental Policy Instruments (Licenciatura)
Universidade de Helsínquia, Finlândia (2017-2019)
European Private Energy Law (Mestrado)
Foundations of European Law (Mestrado)
Livros
"Law in the EU's Circular Energy System: Biowaste, Biofuel and Biogas", Edward Elgar | co-edited with J. van Zeben (2023, forthcoming)
"Sustainable consumption: the right to a healthy environment", Springer | co-edited with A. do Amaral A and L. Klein Vieira, 501p (2020)
"Transformation of economic law – essays in honour to Hans-W. Micklitz", Hart Publishing | co-edited with M. Durovic, M. Cantero Gamito and K. Purnhagen, 432p (2019)
Artigos em jornais académicos e capítulos de livros (peer-reviewed)
"Stress testing the European Green Deal: the 'securitisation' of energy, food and climate", EU Law Live, Cover | co-author with J. van Zeben, M. Alessandrini (2022)
"When Indicators Fail Electricity Policies: the Pitfalls of the EU's Retail Energy Market Barrier Index", Energy Policy | co-author with F. Esposito, J. van Zeben (2022)
"Market access, harmonization, and governance in network industries: the European Union and the World Trade Organization compared", In The Oxford Handbook of Institutions of International Economic Governance and Market Regulation, E. Brousseau, J-M. Glachant J-M, J. Sgard (eds.), Oxford University Press (2021)
"Peer-to-Peer Trading and Energy Community in the Electricity Market – Analysing the Literature on Law and Regulation and Looking ahead to Future Challenges", International Energy Agency UsersTCP Report | co-author with V. Capelli V, N. Klausmann, and H. van Soest H. (2021)
"Digitalization and the electricity markets: 'six building blocks to understand why' and its implications for contracts and contract law", In Digitalization and Contracts, P. Perales Viscasillas, A Martín-Laborda A (eds.), Tirant lo Blanch (2021)
"Standardization of standard contracts: fairness in EU energy exchanges", In The role of the EU Transnational Legal Ordering: Standards, Contracts, and Codes, H-W. Micklitz and M. Cantero Gamito M (eds.), Edward Elgar Publishing (2020)
Looking back to looking forward: a future research agenda for sustainable consumption, law and development, In Sustainable Consumption: the right to a healthy environment, A. Amaral, L de Almeida, L. Vieira (eds.), Springer | co-author with A. Amaral and L. Vieira (2020
"Introduction: sustainable consumption and the law", In Sustainable Consumption: the right to a healthy environment | A. Amaral, L de Almeida, L. Vieira (eds.), Springer | co-author with A. Amaral and L. Vieira (2020)
European Union Litigation, European Review of Contract Law, Vol. 16, Issue 3 (17 Sep 2020) 438-46 | co-author with F. Esposito (2020)
"Institutional co-operation in private law beyond the Hague Convention and towards standard bodies"

, In Research Handbook on the European Union Engagement with International Organization | W. Ramses, J. Odermatt (eds.),  Edward Elgar Publishing | co-author with H-W. Micklitz H, and M. Cantero Gamito  (2019)

"SoS back-and-forth? Minimum v. exhaustive harmonization of the right to be protected customers in gas supply crises: "Eni and Others""

, European Energy and Environmental Law Review, Vol. 28, Ed. 3, May/June 92-100 (2019)

"In search of a grand theory of European private law: social justice, access justice, societal justice and energy markets"

. In Transformation of Economic Law: In Honour to Hans W-Micklitz, L. de Almeida, M. Durovik, M. Cantero Gamito, K. Purnhagen (eds.), Hart Publishing | co-author with F. Esposito (2019)

"Introducing Transformations of Economic Law"

, In Transformation of Economic Law: In Honour to Hans W-Micklitz, L. de Almeida, M. Durovik, M. Cantero Gamito, K. Purnhagen (eds.), Hart Publishing | co-author with M. Durovik, M. Cantero Gamito and K. Purnhagen  (2019)

"A shocking truth for law and economics: the internal market for electricity explained with consumer welfare"

, In Energy Law and Economics, Economic Analysis of Law in European Legal Scholarship 101-136, Mathis K, Huber B (eds.), Springer | co-author with F. Esposito (2018)

"Rise and fall of the classic concept of private law: lessons from the legal consciousness of European private law",

Revista DESC – Direito, Econômia e Sociedade Contemporânea, No 1, Volume 1, Jul/Dez 2018, 95-128 (2018)

"Long-term Upstream Supply Contracts and EU Energy Law: Regulating Contracts in Times of Security of Supply Crisis",

EUI Working Paper Series, Law 06 65-88 (2016)

"Accessing the global value chain in a changing institutional environment: comparing aeronautics and coffee",

IDB Working Papers Series No. IDB-WP-370, November, 109p | co-author with F. Cafaggi, L. Swensson, R. Macedo Junior, T. Silva, C. Gross, and T. Ribeiro (2012)
Outras publicações
"Op-Ed: ACER, Network Codes, the Unlawfulness of the Incremental Capacity Process for Gas Interconnection Projects: MEKH v ACER , EU Law Live", Op-Ed, (2022)
"Op-Ed: State aid as a means to preclude priority dispatching and guaranteed access of fossil fuels to networks in the electricity market: C-179/20 Fondul Proprietatea

, EU Law Live", Op-Ed (2022)

"Op-Ed: Energieversorgungscenter Dresden-Wilschdorf (C-938/19): Establishing the boundaries of a cogeneration installation for the free allocation of emission allowances",

EU Law Live, Op-Ed | co-author with Viola Cappelli (2021)

"European Union Litigation"

, European Review of Contract Law, Vol. 18, Issue 3 | co-author with F. Esposito (2022)

"European Union Litigation"

, European Review of Contract Law, Vol. 18, Issue 1 | co-author with F. Esposito (2022)

"European Union Litigation"

, European Review of Contract Law, Vol. 17, Issue 3 | co-author with F. Esposito (2021)

"European Union Litigation"

, European Review of Contract Law, Vol. 17, Issue 1 | co-author with F. Esposito (2021)
Direito de Energia
Direito do Clima
Direito Ambiental
Direito Económico e Regulação de Mercado
Direito do Consumidor
Direito da União Europeia