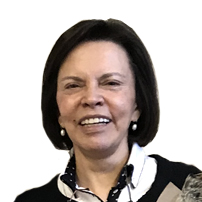 Biographical Note| Pedagogical  Experience | Main Publications | Research Areas
Ana Prata graduated in Law from the University of Lisbon Law School (1972), where she later completed the Post-Graduate Course in Legal Sciences from the same School (1983), having been granted equivalence to the degree of Master in Law by resolution of the Scientific Council of the University of Lisbon Law School. Her PhD thesis, "The sign and function of the promissory contract", was defended in May 1999 at the Faculty of Law of the University of Porto, where it was unanimously approved.
At various times from 1984 to 1995, she was involved in research projects at the Max-Planck Institute, Hamburg.
Since 1999 she has been teaching at NOVA School of Law, where in May/June 2012 she was unanimously awarded 'agregação' in Private Law.
Bachelor's degree (1st Cycle):
Law of Obligations I and II

Introduction to Law I and II

Civil and Commercial Contracts

General Theory of Civil Law II

Civil Liability

Legal Standard Theory

Extra-Curricular Work

Contract Law

General Theory of Private Law
Master's degree (2nd Cycle):
PhD (3rd Cycle):
Ana Prata, Moraes, "Dicionário Jurídico – Direito Civil, Direito Processual Civil e Organização Judiciária", Lisboa, 1980 (2ª edição revista, aumentada e atualizada: 1989; 3ª edição revista, aumentada e atualizada: 1995)
Ana Prata, "A Tutela Constitucional da Autonomia Privada", Almedina, Coimbra, 1982
Ana Prata, "Cláusulas de Exclusão e de Limitação da Responsabilidade Contratual (Regime Geral)", Almedina, Coimbra, 1985 (reimpressão: 2005)
Ana Prata, "Notas sobre Responsabilidade Contratual", Separata da Revista da Banca, Lisboa, 1992 (1ª reimpressão: Almedina, Coimbra, 2003; 2ª reimpressão: Almedina, Coimbra, 2005)
Ana Prata, "O Contrato-Promessa e o seu Regime Civil", Almedina, Coimbra, 1995 (2ª reimpressão: Almedina, Coimbra, 2007)
Ana Prata, "Responsabilidade Civil: Duas ou Três Dúvidas sobre Ela", Estudos em Comemoração dos Cinco Anos da Faculdade de Direito da Universidade do Porto, Almedina, Coimbra, 2001
Ana Prata, "Os Contratos em Volta (da Compra e Venda)", Estudos em Comemoração dos Cinco Anos da Faculdade de Direito da Universidade do Porto, Almedina, Coimbra, 2001
Ana Prata, "Venda de Bens Usados no Quadro da Diretiva 1999/44/CE", Revista Themis, Ano II, nº 4, 2001
Ana Prata, "Dicionário Jurídico, Vol. I – Direito Civil, Direito Processual Civil e Organização Judiciária", Almedina, Coimbra, 2005 (4ª edição revista, aumentada e atualizada; 5ª edição revista e atualizada: 2008)
Ana Prata, Ana Prata (coordenação e coautoria), José Manuel Vilalonga e Catarina Veiga, "Dicionário Jurídico, Vol. II – Direito Penal e Processual Penal",  Almedina, Coimbra, 2007 (2ª edição revista, aumentada e atualizada: 2009)
Ana Prata, "Responsabilidade Civil", Revista Themis, Edição Especial subordinada ao tema Código Civil Português, Evolução e Perspetivas Atuais, 2007
Ana Prata, "Law of Torts, Portuguese Law – An Overview"

, Almedina, Coimbra, 2007

Ana Prata, "O Regime do Artigo 796º do Código Civil ("One Man's Platitude is Another Revolution")

", Estudos Comemorativos dos 10 Anos da Faculdade de Direito da Universidade NOVA de Lisboa, Vol. II, Almedina, Coimbra, 2008

Ana Prata, "Direito das Obrigações – Relatório Incluindo o Programa, os Conteúdos e os Métodos de Ensino e Avaliação da Disciplina de Direito das Obrigações"

, Almedina, Coimbra, 2008

Ana Prata, "

Direito das Obrigações – Relatório Incluindo o Programa, os Conteúdos e os

Métodos de Ensino e Avaliação da Disciplina de Direito das Obrigações", Almedina, Coimbra, 2008
Ana Prata, "As Cláusulas Abusivas no Direito Português"

,

Revista da Ordem dos Advogados do Brasil, Secção do Rio de Janeiro, Vol. 26, nº 1, Janeiro — Junho de 2010

Ana Prata, "Contratos de Adesão: Cláusulas Contratuais Gerais. Anotação ao Decreto-Lei n.º 446/85, de 25 de Outubro"

, Almedina, Coimbra, 2010

Ana Prata, "As Cláusulas Abusivas no Direito Português"

, Revista da Ordem dos Advogados do Brasil, Secção do Rio de Janeiro, Vol. 26, nº 1, Janeiro — Junho de 2010

Ana Prata, "Responsabilidade delitual nos Códigos Civis Português de 1966 e Brasileiro de 2002"

,

Estudos em Homenagem ao Prof. Doutor Lebre de Freitas, Vol. 1, Coimbra Editora, Coimbra, Julho de 2013

Ana Prata (Coautoria), "Código da Insolvência e da Recuperação de Empresas anotado"

, Almedina, Coimbra, 2013
Civil Law

Law of Obligations

Contract Law

Extra-Contractual Civil Liability

Civil Code