NOVA SIMAQ

NOVA SIMAQ is NOVA's Internal Quality Monitoring and Evaluation System. It is aligned with the University's Strategic Plan, covering all its activities and ensuring the involvement of all stakeholders (internal and external). It aims at the continuous improvement of NOVA's Quality, responding to the legal requirement of implementing its own Quality assurance systems.
NOVA SIMAQ is structured along five core domains: Teaching-Learning, Research and Development, Value Creation, Internationalization, and Interinstitutional and Community Collaboration, the latter two being transversal to the others. The support areas for these domains correspond to Human Resources, Material Resources and Services, Social Welfare Services, Information Management and Information Publicity, as shown in the following figure.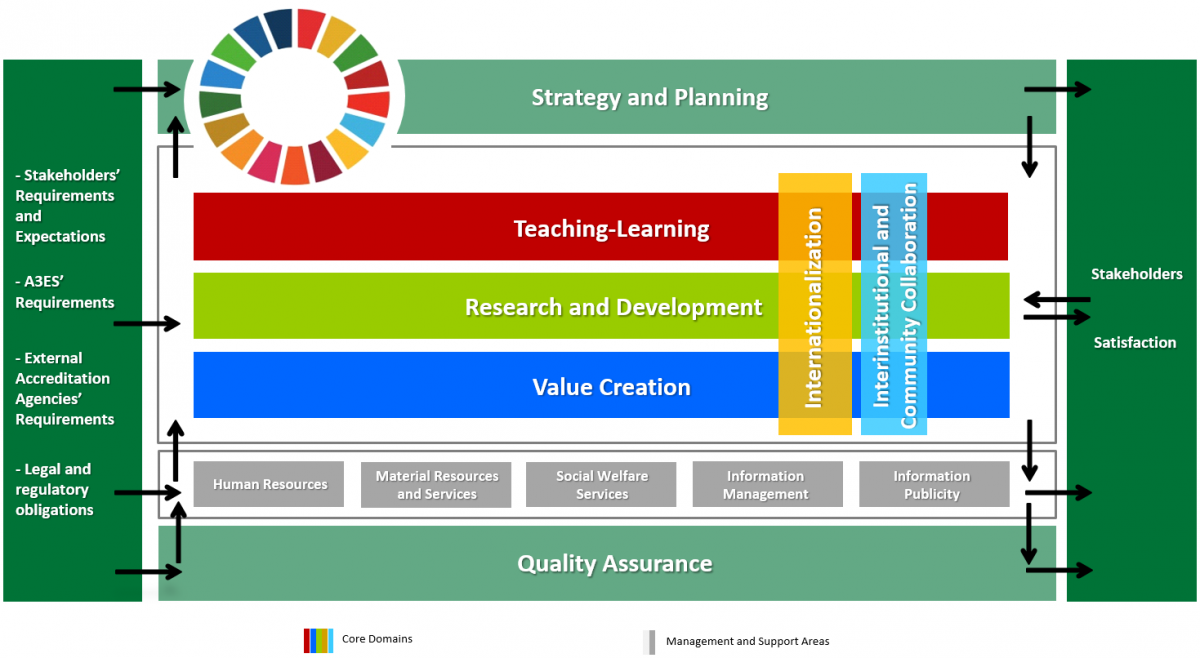 Instruments for monitoring the quality of teaching
Questionnaire on the perception of students regarding the functioning of the curricular units;
Questionnaire on the perception of teachers regarding the functioning of the curricular units;
Curricular Unit Form;
Curricular Unit Report;
Biannual analysis of the operation of the study cycle;
Report of the study cycle;
Curricular Unit Report;
Quality Assessment of the Organic Unit in Teaching and Learning.
Contacto: Manuela Guerreiro
Tel: 213847420
E-mail: mmg@novalaw.unl.pt
Quality Assurance support
Margarida Lima Rego, Sub Director
Isabel Caetano Antunes, Executive Manager
Jorge Morais Carvalho and Joana Farrajota, Professors Responsible for Quality
Manuela Guerreiro, Responsible for Quality
Support Quality Assurance
Carla Cintra (Communications)
Cláudia Prazeres (HR)
Cláudia Saltão (Library)
Fernanda Matias (Direction Support)
Fernanda Xavier (Council's Support)
Guilherme Berriel (CEDIS)
Jorge Azevedo Correia (Professional careers and Institutional relations)
Narcisa Rosa (Financial Services)
Patrícia Luz (Academic Division)
Rita Jordão (International Exchange Programs)
Rui Manso (IT)
Under the terms of the law, the NOVA University of Lisbon makes available on its website all the elements relevant to the complete knowledge of the study cycles offered and degrees conferred, the research carried out and the services provided by the institution. The self-assessment and external institutional assessment reports and the study cycles taught at the Faculty are available on the website of the NOVA University of Lisbon.