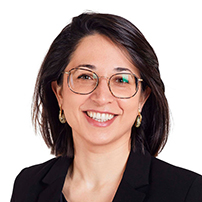 Biographical Note | Pedagogical Experience | Main Publications | Research Areas
Giulia Priora is an Assistant Professor in Private Law at the NOVA School of Law in Lisbon, where she teaches intellectual property (IP) law, ethics and regulation of emerging technologies, legal research methods, and EU digital policies.
Her research focuses primarily on EU and comparative copyright law, the evolving judicial reasoning over digital technologies and online behaviors, and distributive justice theories in the digital economy. She is a permanent contributor at the Kluwer Copyright Blog and an affiliated researcher at the CEU Center for Media Data and Society.
Prior to joining NOVA School of Law, she served as Postdoctoral Researcher at Sant'Anna School of Advanced Studies in Pisa, as Visiting Lecturer at the universities of Münster, Padova, Bocconi Milan, and Yangon, and as Visiting Scholar at the Columbia Law School, Hamburg University, and CIPPM at Bournemouth University.
She holds an S.J.D. in International Business Law summa cum laude (CEU), an LL.M. in Comparative Law, Economics and Finance (IUC Turin), and a double master's degree in Italian and German Law (University of Turin/University of Münster).
Bachelor's degree (1st cycle)
Legal Information and Documentation
Master's degree (2nd cycle)
Intellectual Property Law (IP theory and copyright)
Intellectual Property Law (patent and trademark)
Ethics and Regulation of Robots and Artificial Intelligence
Doctoral school (3rd cycle)
Methodologies of Legal Analysis
Book Chapters
"Capturing the uncapturable: The relationship between universities and copyright through the lens of the audio-visual lecture capture policies" in Cristiana Sappa and Enrico Bonadio (eds), Art and Literature in Copyright Law: Protecting the Rights of Creators and Managers of Artistic and Literary Works (Edward Elgar, forthcoming) (with Guido Noto La Diega, Léo Pascault, Bernd Justin Jütte).
"Unsettled state of regulation: Italy's hard path towards effective rules for the sharing economy" in Cristina Miguel, Andrzej Klimczuk, Vida Cesnuityte (eds), "The Sharing Economy in Europe: Developments, Practices, and Contradictions" (Palgrave Macmillan, forthcoming) (with Monica Postiglione, Stefano Valerio, Chiara Bassetti, Venere Sanna).
"Smart urban mobility: A positive or negative IP space? A case study to test the role of IP in fostering data-driven innovation" in Michèle Finck, Matthias Lamping, Valentina Moscon, Heiko Richter (eds), "Smart Urban Mobility. Law, Regulation and Policy" (Max Planck Institute Studies on Intellectual Property and Competition Law Series Vol. 49, Springer 2020) 143-162 (with Caterina Sganga).
Peer-reviewed journal articles
"The 'two suns' of EU digital copyright law: reconciling rightholders' and users' interests via interlegality" (2021) forthcoming in Italian Law Journal (2021).
"Copyright and remote teaching in the time of Covid-19: A study of contractual terms and conditions of selected online services" (2020) European Intellectual Property Review 42(9) 548-555 (with Léo Pascault, Bernd Justin Jütte, Guido Noto La Diega).
"The principle of appropriate and proportionate remuneration in the CDSM Directive: A reason for hope?" (2020) European Intellectual Property Review 42(1) 1-3.
"Catching sight of a glimmer of light: Fair remuneration and the emerging distributive rationale in the reform of EU copyright law" (2019) Journal of Intellectual Property, Information Technology and Electronic Commerce (JIPITEC) 10(3) 330-343.
"Copyright law and the promotion of scientific networks: some reflections on the rules on co-authorship in the EU" (2019) Queen Mary Journal of Intellectual Property 9(2) 217-232.
"Safe harbor protection for online video platforms: a time to say goodbye? Analysis of judgments by Italian and German courts on the liability of YouTube for copyright infringements" (2019) Medialaws Rivista di Diritto dei Media 2, 128-143 (with Oliver Englisch).
Case comments
"The CJEU's take on unauthorized framing of online content: (only) if technologically precluded, then prohibited" (2021) Medialaws Rivista di Diritto dei Media 239-246.
"Catch me if you can: CJEU safeguards the privacy of online copyright infringers in landmark decision Constantin Film Verleih v YouTube" (2020) Medialaws Rivista di Diritto dei Media 3/2020, 260-266.
"Leaking of secret military reports qualifies as reporting of current events" (2020) Journal on Intellectual Property Law and Practice 15(9) 681-682 (with Bernd Justin Jütte).
"No copyright infringement for publication by the press of politician's controversial essay" (2020) Journal on Intellectual Property Law and Practice 15(8) 583-584 (with Bernd Justin Jütte).
"The ECJ Ruling in Allposters v Pictoright: A Comment on the Narrow Interpretation on the Exhaustion Rule" (2015) RGNUL Financial & Mercantile Law Review 5 (with Ishupal Singh Kang)
Intellectual Property Law
Copyright Law
EU Digital Policies
Legal Theory