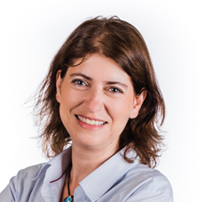 Biographical Note | Pedagogical Experience | Main Publications | Research Areas
Soraya Nour Sckell is an Associate Professor at the NOVA School of Law.
She is a researcher at CEDIS (NOVA School of Law) and at the Centre of Philosophy of the University of Lisbon.
She is Senior Researcher of the project "Cosmopolitism: justice, democracy and citizenship without borders".
She has received the Wolfgang Kaupen Prize (German Society of Sociology, section of Sociology of Law, 2018) and the Franco-German Friendship Prize (German Embassy in Paris, 2012).
She holds a PhD in Philosophy from the University Paris Nanterre and the University Goethe Frankfurt am Main (thesis in co-protection, 2012) and a PhD in Law from USP-University of São Paulo (1999).
She did postdoctoral studies at the Universities of Saint Louis (SLU), Nanterre, Frankfurt am Main and Berlin (Humboldt University) and taught at the Universities of São Paulo, Munich, Metz, Lille and Lisbon.
Former scholar at the Alexander von Humboldt Foundation and former Director of the Cosmopolitan Research Programme at the Collège International de Philosophie in Paris (2013-2019). She is Vice-President of the Humboldt France Association.
Bachelor's degree (1st Cycle):
Legal Discourse Analysis

Sociology of Law
Master's degree (2nd Cycle):
Philosophy of Law

Legal Analysis Methodologies

Methodology of Scientific Research
PhD (3rd Cycle):
Methodology of Scientific Research

Methodology of Legal Research
Sckell, Soraya Nour. 2020. À Paz Perpétua de Kant. Filosofia do Direito Internacional e das Relações internacionais. São Paulo: Martins Fontes, (1. ed. 2004, 2. ed.

 

2013), 212 p.
Sckell, Soraya Nour. 2019. A Ideologia. São Paulo, Martins Fontes, 84 p.

http://www.wmfmartinsfontes.com.br/produto/410458-

Sckell, Soraya Nour. 2020. "Bourdieus juridisches Feld: die juridische Dimension der sozialen Emanzipation.". In: Sonja Buckel, Ralph Christensen, Andreas Fischer-Lescano,  Neue Theorien des Rechts, 243-260. Stuttgart, 3. edition. Stuttgart: UTB (Uni-Taschenbücher).

   

Sckell, Soraya Nour. 2019. "Kosmopolitismus. Eine Diskussion in Hinblick auf Pierre Bourdieus Rechtsdenken". In: Andrea Kretschmann (ed.), Das Rechtsdenken Pierre Bourdieus, 255-270. Weilerswist: Velbrück Wissenschaft. http://dx.doi.org/10.5771/9783748901693-255
Sckell, Soraya Nour. 2019. "Le droit, de la théorie critique à la théorie de la reconnaissance". In: Alain Patrick Olivier, Maiwenn Roudaut & Hans-Cristoph Schmidt am Busch (ed.), Théories de la reconnaissance et critique sociale, 195-210. Lyon: Edition de l'Ecole Normale Supérieure de Lyon.
Sckell, Soraya Nour. 2019. "Critical cosmopolitanism. Beyond the opposition between a philosophical and a sociological one". In: Andrej Krause & Danaë Simmermacher (ed.), Denken und Handeln. Perspektiven der praktischen Philosophie und der Sprachphilosophie, 172-189. Berlin: Dunker & Humblot.
Philosophy of Law

Sociology of Law

Social and Political Philosophy

Human Rights.