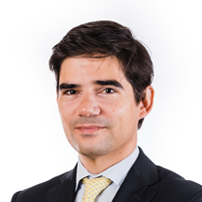 Biographical Note
|
Pedagogical Experience
|
Main Publications
|
Research Areas
Lúcio Tomé Feteira is Associate Professor and Coordinator of the Master in Law, specialising in the area of Public Law.
He has a degree in Law from the Portuguese Catholic University Law School (1994-1999), a Post-graduate degree in Corporate Law (Coimbra University Law School – 2003-2004) and in Competition Law and Regulation (Lisbon University Law School – 2005-2006). He holds a Master of Research and a Ph.D. in Law from the European University Institute, Florence (2006-2012). He did Postdoctoral studies in Legal and Economic Sciences at the University of Lisbon Law School (2013-2015).
He is a lawyer at Luís Silva Morais, Sérgio Gonçalves do Cabo & Associados – SP, R.L.
Bachelor's degree (1st Cycle):
Economic Law

Economic Analysis of Law

Legal Information and Documentation
Master's degree (2nd Cycle):
Financial Markets Regulation and Supervision

International Economic Law

Competition Law

European Law of the Sea

Oil and Gas Law

Economic Regulation
"Competition Rules in MERCOSUL: the Protocol of Fortaleza" in Marcílio Toscano Franca Filho/Lucas Lixinski/María Belén Olmos Giupponi (eds.), The Law of Mercosur (Oxford, Hart, 2010)
Comentário aos artigos 278.º e 279.º do Tratado sobre o Funcionamento da União Europeia in Gonçalo Anastácio/Manuel Lopes Porto (coord.), Tratado de Lisboa – Anotado e Comentado (Coimbra, Almedina, 2012)
'(Right to) Development and International Transfer of Technology: A Competition Law Perspective' in Mário Viola de Azevedo Cunha, Norberto Nuno Gomes de Andrade, Lucas Lixinski e Lúcio Tomé Feteira (eds), New Technologies and Human Rights: Challenges to Regulation (Ashgate 2012, ISBN 1409442160, 9781409442165)
'The Chameleon in the Room: Transatlantic Views on Information Exchange' (em co-autoria com Luís Silva Morais), in AAVV, Liber Amicorum Barry Hawk (Concurrences)
United (should) we stand? – The Interplay Between European and National Competition Law after Regulation 1/2003, vol. 66 da 'International Competition Law Series', Kluwer Law International, 2015

[

versão publicada da tese de doutoramento

]

'Entre eficiência e desenvolvimento: reflexões sobre o direito da concorrência nos países em vias de desenvolvimento' in C&R – Revista de Concorrência & Regulação, ano V, n.º 19, julho/setembro 2014
'Risk Finance Investment' (em co-autoria com Luís Silva Morais) in Leigh Hancher/Thomas Ottervangher/Piet Jan Slot (coord.), EU State Aid, 5.ª edição (Sweet & Maxwell: 2016)
"On Free and Fair Competition (I): some comparative notes on the interplay between unfair competition and competition law" in Themis vol. XVIII, n.º 33 (2017)
"On Free and Fair Competition (II): the impact of EU Law on the interplay between unfair competition and competition law" in Themis, edição especial n.º 6 (2018)
"Judicial Review and the Banking Resolution Regime: the evolving landscape and future developments" (em co-autoria com Luís Silva Morais) in Quaderni di Ricerca Giuridica, June 2018, n.º 84

"All's Well That Ends Well?

Abuse regulation in the wake of the financial crisis. The interplay between regulation and the application of competition law to the financial sector

" (em co-autoria com Luís Silva Morais) in Fabiana di Porto / Rupprecht Podszun (eds.), Abusives Practices in Competition Law – ASCOLA Competition Law Series (Edward Elgar: 2018)
"Serviços financeiros e sistema comercial multilateral: algumas notas sobre a exceção prudencial (prudential carve-out)", Boletim de Ciências Económicas (2019), vol. XLII, pp. 263-304.
"Regulação financeira e o setor bancário: justificação, âmbito e perspetivas" in Carla Amado Gomes et all (coord.), Garantias de Direitos e Regulação: Perspectivas de Direito Administrativo, Lisboa, AAFDL, 2020
Economic Law, in particular the freedoms of movement

Regulation and Regulatory Law, especially in the financial sector

Competition Law

International Economic Law, in particular the WTO system
Students Assistance Service
Monday from 11:00 a.m. to 12:00 p.m. and from 5:30 p.m. to 7:30 p.m. (Registrations by email)