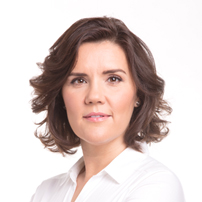 Biographical Note
|
Pedagogical Experience
|
Main Publications
|
Research Areas
Assunção Cristas, born in 1974 in Luanda, is married and has four children.
She was part of the First Doctoral Course of the Law School of Nova University, Lisbon (1997), where she obtained her doctorate in private law, with the thesis – Contractual Transmission of Credit Law. The true nature of credit claims (Almedina, 2005). She's been a Professor with NOVA School of Law ever since. She has a law degree from Lisbon University Law School (1997), where she was a monitor (95/96) and a trainee assistant (97-99), until she opted to dedicate herself exclusively to the preparation of her PhD at NOVA School of Law, benefiting from an FCT grant.
She was Director of the Office of Legislative Policy and Planning of the Ministry of Justice (2002-2005). Between the end of 2005 and the beginning of 2009, she dedicated herself exclusively to academia. In addition to the teaching component and national and international research, with participation in colloquia and publication of texts, she has also been involved in organizational aspects. Namely, she coordinated the SPEED (Permanent Research Seminar on the State and Study of Law), joined the Board of CEDIS (Centre for Studies in Law and Society) and headed the CNIACC (National Centre for Information and Monitoring of Consumer Conflicts), a body created in liaison with the Directorate-General for Consumers. She has co-authored several papers on consumer legislation.
She was a consultant at Morais Leitão, Galvão Teles, Soares da Silva e Associados (2009-2011).
Between September 2009 and January 2020 she held several political positions at national level (from 2011 on, exclusively): she was Member of Parliament (2009-2011 and 2015-2020); Minister for Agriculture, Sea, Environment and Spatial Planning (2011-2013) and Minister of Agriculture and Sea (2013-2015) of the XX and XIX Governments; President of the political party CDS-PP (2016-2020). In 2017 she was elected a councilor of Lisbon City Council, a mandate that ends in 2021. In July 2019 she published the book Trust. Women, power and the country that we aspire to for all.
Returning to the Faculty, she assumed joint coordination of the Master's Degree in Law and Economics of the Sea and the coordination of the NOVA Ocean Knowledge Center, having resumed her teaching activity in the academic year 2020/2021.
Bachelor's degree (1st Cycle):
Law of Obligations I and II (pre-Bologna) and Law of Obligations

Civil and Commercial Contracts

Property Law

Contract Law

Law of Torts
Theory of Legal Norm
Master's degree (2nd Cycle):
Consumer Law

Sea Policy

The Sea and Maritime Identity
PhD (3rd Cycle):
Comparative Private Law

Civil Law in joint PhD courses with Angola and Mozambique
"Concorrência Desleal e Protecção do Consumidor: a Propósito da Directiva 2005/29/CE," in "Prof. Doutor Inocêncio Galvão Telles: 90 anos. Homenagem da Faculdade de Direito de Lisboa", Almedina, Coimbra, 2007, 141
"Direito à resolução e direito ao cumprimento", in "Código Civil: 40 anos de vigência", Almedina, Coimbra, 2008, 277;
"Portuguese Contract Law: in search for regimes unification?", European Review of Contract Law, 2009, vol.5, n. 3, 357-367;
"On the boundary between torts and contracts. An economic view, com Nuno Garoupa", in "Economic Analysis of the DCFR", Pierre Larouche e Filomena Chirico (ed.), Sellier, Munique, 2011, 277-294;
"Incumprimento contratual – O Código Civil Português e o DCFR – Notas Comparadas", in "Estudos em Homenagem ao Professor Doutor Carlos Ferreira de Almeida", Volume II, Rui Pinto Duarte, Assunção Cristas et al. (org.), Almedina, Coimbra, 2011;
"Green Paper on Policy Options for Progress Towards a European Contract Law for Consumers and Businesses. What do we want?", European Review of Contract Law, 2011, vol. 7, n. 2, 314-334.
"Incumprimento dos contratos. Avaliação legislativa e perspetivas de desenvolvimento", com Jorge Morais Carvalho, Alice Ramos e Cícero Roberto Pereira, Almedina, Coimbra, 2013.
"One Cannot Change the Wind, but One Can Always Adjust the Sail: The Role of Legal Framework in Developing a Blue Economy", in "Ocean Law and Policy: 20 years under UNCLOS", H.Scheiber, C. Esposito et al (ed.), Brill, Nijhoff, Leiden, Boston, 2016, 379-386.
Private Law, in particular Contract Law and Law of Obligations.

She has a particular interest in the field of legislative evaluation, legislative architecture, the interaction of law with other fields of knowledge and its role in the construction of public policies.

In particular, she intends to develop research in the area of the Sea.