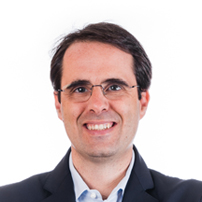 Associate Professor and Vice Dean
Biographical Note | Pedagogical Experience | Main Publications | Research Areas
Jorge Morais Carvalho has a Law Degree (2002) and a PhD (2011) from the NOVA School of Law, where he is Vice Dean since October 2021.
He is an Associate Professor at NOVA School of Law, where he is the Coordinator of the Degree (1st Cycle) and Coordinator of the Master in Law – Specialisation in Law & Technology.
He is a Researcher at CEDIS – Research & Development Center on Law and Society, Director of NOVA Consumer Lab and NOVA Law & Tech.
He is the author (or co-author) of about one hundred and ten books and scientific articles, in the areas of civil law, commercial law, consumer law, civil procedural law, alternative dispute resolution and comparative law, with emphasis on the following works: Manual of Consumer Law (7. ª edition, 2020), The Limits to Contractual Freedom (2016, with reprinting in 2017), Manual on Alternative Dispute Resolution (2017, with reprinting in 2019) and Introduction to Comparative Law (2013, with last reprinting in 2019 and translation into Spanish in 2018).
Jorge Morais Carvalho has participated in over one hundred seminars, conferences, scientific congresses and colloquia or training actions in Brazil, Spain, England, Italy, Peru and Portugal.
He is the editor of EuCML – Journal of European Consumer and Market Law, Subdirector of Themis – Revista da NOVA School of Law and Coordinator of the Yearbook of NOVA Consumer Lab.
Bachelor's degree (1st Cycle):
Comparative Legal Systems

Declarative Civil Procedural Law

People and Family Law

Executive Civil Procedural Law

Legal Standard Theory

Information and Documentation

Civil and Commercial Contracts

Theory of Process

General Theory of Private Law

Law and Technology

Consumer Law
Master's degree  (2nd Cycle):
Consumer Law

Contracts with Consumers

Industrial Property and Advertising

Comparative Law

Insolvency

European Consumer Law

Law & Technology

Digital Contracts
PhD (3rd Cycle):
Short courses organised:
Consumer Law and Alternative Dispute Resolution (6 editions)

Local Accommodation, Sale of Consumer Goods and Supply of Digital Content

Advertising Law and Advertising Activity

Complaints Book and Resolution of Consumer Disputes: The New Regime of Required Arbitration

Technology and Contracts – Challenges of the Digital Age, Digital Platforms Contractual Regime
"Manual de Direito do Consumo", 7.ª edição, Almedina, Coimbra, 2020
"Anuário do NOVA Consumer Lab", n.º 1, 2019 – Coordenação
"Casos Práticos Resolvidos de Direito do Consumo", Almedina, Coimbra, 2019 – Coordenação
"Introducción al Derecho Comparado", tradução de Francisco Cuena Boy, Ediciones Olejnik, Santiago de Chile, 2018 (com Carlos Ferreira de Almeida)
"Manual de Resolução Alternativa de Litígios de Consumo", Almedina, Coimbra, 2017 (com João Pedro Pinto-Ferreira e Joana Campos Carvalho) – reimpressão em 2019
"Os Limites à Liberdade Contratual", Almedina, Coimbra, 2016 (reimpressão em 2017)
"I Congresso de Direito do Consumo", Almedina, Coimbra, 2016 – Coordenação
"Contratos Celebrados à Distância e Fora do Estabelecimento Comercial – Anotação ao Decreto-Lei n.º 24/2014, de 14 de Fevereiro", Almedina, Coimbra, 2014 (com João Pedro Pinto-Ferreira)
"Introdução ao Direito Comparado", 3.ª edição, Almedina, Coimbra, 2013 (com Carlos Ferreira de Almeida) – última reimpressão em 2019
"Incumprimento dos Contratos", Almedina, Coimbra, 2013 (com Assunção Cristas, Cícero Roberto Pereira e Alice Ramos)
"Os Contratos de Consumo – Reflexão sobre a Autonomia Privada no Direito do Consumo", Almedina, Coimbra, 2012
"Conflitos de Consumo", Almedina, Coimbra, 2006 – Organização (com Mariana França Gouveia)
Consumer Law

Contract Law

European Union Private Law

Digital Contract Law

Alternative Dispute Resolution

Comparative Law
Serviço de Assistência a Aluno/as:
2ª Feira das 09h às 12h
3ª Feira das 09h às 12h