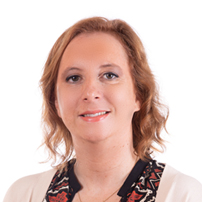 Biographical Note | Pedagogical Experience | Main Publications | Research Areas
Margarida Lima Rego is full professor at, and dean of NOVA School of Law, NOVA University, Lisbon, where she has lectured regularly since 2005.
As an academic, she has taught different courses and published in a wide range of topics within Private Law, with a special focus on Contract Law. She is scientific coordinator of the School of Law's PhD Programme in Law and, until June 2022, she also coordinated its Master's in Law and Financial Markets, a degree that she co-founded in 2015. She is currently in charge of the courses of Law of Obligations and Hard Cases (undergraduate), she is the holder of the Jean Monnet Module in EU Insurance Law: Challenges in the SDG Era (master's), and is responsible for the seminars on Private Law (PhD). Margarida Lima Rego is an active researcher at CEDIS, the School's R&D Unit, where she founded and coordinates the NOVA Knowledge Centre for Data-Driven Law.
Margarida's main areas of practice are civil and commercial law. She has been a member of the Board of Appeal of the European Supervisory Authorities since December 2021. Previously, she was Of Counsel to Morais Leitão, where she headed the insurance, reinsurance and pension funds cross-practice team, having left the firm in July 2019 to pursue her academic career on a full time basis. She is still an active legal consultant who is regularly sought on varied subject matters of Portuguese and Lusophone Law, having contributed to dispute resolutions before the courts of several jurisdictions in Europe, Africa and North and South America.
Margarida was a member of the Portuguese Bar between 2002 and 2019. Current positions include: President of AIDA Portugal; member of the Executive Committee and Scientific Committee of AIDA Europe; of the Scientific Committee of CILA; of the Presidential Council of AIDA World. Chairwoman of the Commercial Law and Practice Commission of the Portuguese chapter of the International Chamber of Commerce.
Education:
Agregação in Private Law (NOVA University, Lisbon, 2022)
PhD in Private Law (NOVA University, Lisbon, 2009)
MPhil in Contract Law (Oxford University, 2001)
MJur in European and Comparative Law (Oxford University, 2000)
Law Degree (Lisbon University, 1999)
Bachelor's degree (1st Cycle):
Law of Obligations

Hard Cases

Introduction to Law and Legal Thought

Process Theory

People and Family Law

Executive Civil Procedural Law

Comparative Legal Systems
Master's degree (2nd Cycle):
EU Insurance Law

Insurance Law

Banking and Insurance Law

Markets and Financial Operations

Oral Advocacy
PhD (3rd Cycle):
Private Law

Scientific Publication
"Contrato de seguro e terceiros" (2010)
"Temas de direito dos seguros" (2012, 2016)
"Decisões em ambiente de incerteza: probabilidade e convicção na formação das decisões judiciais"» (2013)
"Statistics as as basis for discrimination in the insurance business" (2014)
"Product oversight and customer demands and needs: contract law implications" (2018)
"Manifesto contra a subversão do contrato" (2018)
"Regulación del contrato de seguro en Portugal y España" (2018, 2019)
"Insurance in today's sharing economy: new challenges ahead or a return to the origins of insurance?" (2020)
"Compensatio lucri cum damno in Portugal" (2020)
"Insurance and human rights" (2022)
Civil and Commercial Contracts

General Contract Theory

Insurance Law

Obligations

Technological Innovation in Financial Markets and its impact on general Contract Law

The use of scientific evidence as a basis for judicial or legal decisions in general

Human or Fundamental Rights and their impact on Contract Law issues

Discrimination

Gender Equality
Students Assistance Service:
Monday from 12 p.m. to 1 p.m. (Registrations by email)