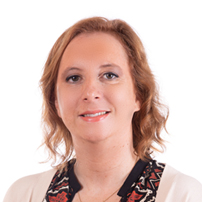 Associate Professor with Aggregation and Vice Dean
Biographical Note | Pedagogical Experience | Main Publications | Research Areas
Margarida Lima Rego is Associate Professor with Aggregation and Vice Dean of NOVA School of Law, where she has regularly been teaching since 2005. She is the coordinator of the Master's Degree in Law and Financial Markets – a partnership between NOVA School of Law and NOVA Information Management School, whose 1st edition opened in September 2015 – and of the PhD in Law (FCT PhD Program) of the NOVA School of Law.
As an academic, she has coordinated a number of disciplines and published on a wide range of private law topics, with special focus on Contract Law. She is the coordinator of the Master's Degree in Law and Financial Markets, and vice-coordinator of the PhD Programme in Law, of NOVA School of Law, which she represents. Currently, she is responsible for the subjects of Law of Obligations (bachelor's degree) and Insurance Law (master's degree).
Her main areas of practice are civil and commercial law. She was Of Counsel at Morais Leitão, where she coordinated the transversal group of insurance, reinsurance and pension funds, having left the firm in July 2019 to dedicate herself fully to her academic career. As a lawyer, she regularly advised national and international clients from the public and private sectors in the design and implementation of various commercial operations and in the composition and negotiation of various contracts, with special focus on the insurance sector. As a legal consultant, she is regularly consulted on various matters of Portuguese and Lusophone law, having contributed to the resolution of disputes before the courts of various jurisdictions.
Margarida Lima Rego was a member of the Portuguese Lawyers Association between 2002 and 2019. She is the President of AIDA Portugal and a member of the Executive Committee of AIDA Europe and the Presidential Council of AIDA World. She is President of the Portuguese section of the Law and Commercial Practice Committee of the International Chamber of Commerce.
Bachelor's degree (1st Cycle):
Law of Obligations

Introduction to Law and Legal Thought

Process Theory

People and Family Law

Executive Civil Procedural Law

Comparative Legal Systems
Master's degree (2nd Cycle):
Insurance Law

Banking and Insurance Law

Markets and Financial Operations

Oral Advocacy
PhD (3rd Cycle):
Contrato de seguro e terceiros. Estudo de direito civil, Coimbra 2010 (tese de doutoramento)
No right to perform a contract? Almedina 2006 (tese de mestrado)
Temas de direito dos seguros, Almedina 2012, 2.ª edição Almedina 2016 (coordenação e coautoria)
Regulación del contrato de seguro en Portugal y España: análisis comparado, Fundación INADE 2018, em português 2019 (coautoria) 

Autora de diversos capítulos de livros e artigos publicados em revistas científicas de circulação internacional sobre uma vasta gama de temas de direito civil e comercial.
Civil and Commercial Contracts

General Contract Theory

Insurance Law

Obligations

Technological Innovation in Financial Markets and its impact on general Contract Law

The use of scientific evidence as a basis for judicial or legal decisions in general

Human or Fundamental Rights and their impact on Contract Law issues

Discrimination

Gender Equality
Students Assistance Service:
Monday from 12 p.m. to 1 p.m. (Registrations by email)