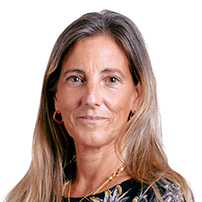 Biographical Note
|
Pedagogical Experience
Education
Graduated in Law, by Universidade Católica de Lisboa (2010) and in Business Administration, by ISCTE (1992).
She is a Ph.D student, in Management, specialization in accounting (investigation on the taxation field).
She is an Official Chartered of Account and member of the respective Chamber. Also member of the Chamber of Economists (member of the College of Specialties Economics and Business Management /
Management and Tax Consultancy).
Had concluded, in 2019, the final examinations to be admitted at the Statutory Auditor Chamber.
Participated in several courses and conferences promoted by Deloitte and third entities, not only in Portugal, but in various other cities such as Madrid, London, Paris, Chicago, Frankfurt or Veldhoven.
Pro bono Board Member of several non-profitable Portuguese entities.
Professional experience
Begun her career in 1992, as a trainee and senior at the audit practice in Arthur Andersen (incorporated in Deloitte). Tax Partner since 2007.
Currently Head of Tax M&A involving the Portuguese practice, except for clients operating in the financial sector.
In the tax area, as tax advisor, her experience is very broad, including tax planning, daily tax issues, structuring of business groups, fulfilment of tax obligations or monitoring audits.
In Corporate Finance and on the taxation field, Margarida has experience in Independent Business/Model Reviews, financial restructuring operations, tax issues related to capital raising, supporting on sell-side or buy-side transactions, tax structuring of transactions or tax issues related to inward investments and cross border transactions, among others.
Holds the "CAP – Certificado de Aptidão Pedagógica" (pedagogic certification).
Head of Deloitte Executive Education (DEE), a business line responsible to develop and promote training sections for clients. She was, for 10 years, the international tax training coordinator for the Portuguese Deloitte and Andersen's tax practice.
University teacher of Taxation, at ISCTE, teaching students of Business and Management degree and Finance and Accounting degree, since 2011.
Master and postgraduation's jury in thesis defenses.
Responsible for several matters under Masters and postgraduate programs, as follows:

Master of Science in Business Administration – by Universidade Católica / Deloitte;
Principles of Tax Law and Major Corporation Taxes, under the postgraduate program "Course of Business/corporation Law ", by IDT/Universidade NOVA de Lisboa;
Principles and Procedures of Tax Litigation under the postgraduate program in "Accounting and Taxation", by University of Madeira;
VAT + RITI, under the postgraduate program in "Tax Management", by ISCTE;
Corporate Taxation, under the postgraduate program in "Corporate Finance", by Nova SBE (EN);
Tax Practice, under the Master's in Law and Management, by NOVA School of Law (EN);
Tax M&A, under the Executive Program of M&A, by Nova SBE.